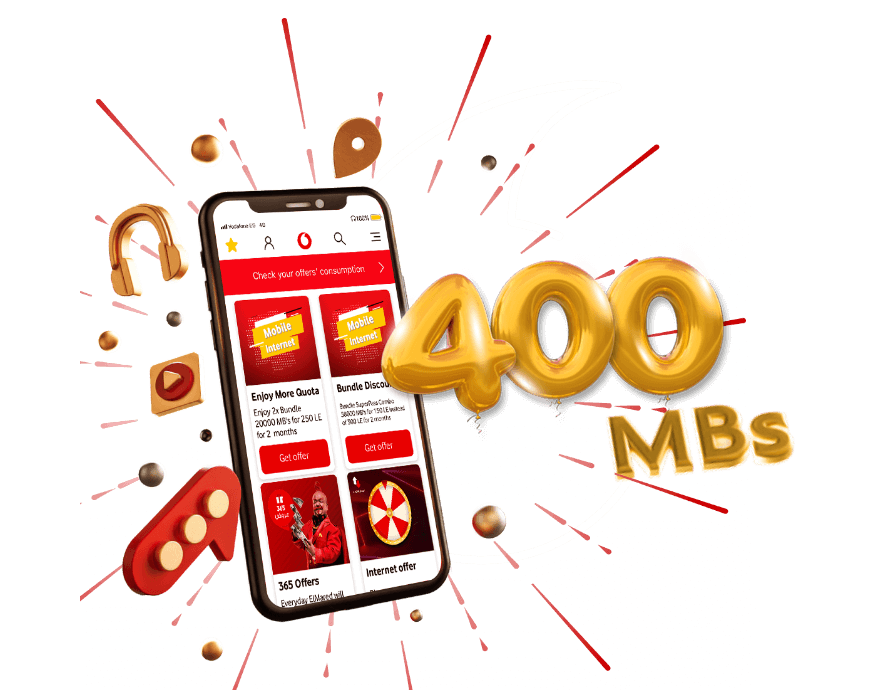 Now with Ana Vodafone App
All Vodafone services are at your fingertips
To get Ramadan gifts download the APP Now
What can I do on the App?
You can fully control your line, check your balance or bills, track your usage and subscribe to internet bundles. You will also check our offers designed just for you and much more!
__PRESENT
Which devices support Ana Vodafone app?
All Android phones with operating system 4 or higher, & iPhones with operating system 8 or higher support Ana Vodafone.
__PRESENT
Does Ana Vodafone support my rate plan?
No matter which rate plan you are on, enjoy a personalized experience designed just for you!
__PRESENT
Can I suggest ideas to help improve Ana Vodafone?
We continuously aim to provide you with the services you demand with the best quality. Just take our survey and send us any feedback or ideas you may have and will do our best to fulfill your needs.
Check out Ramadan offers here
__PRESENT

Bill & Balance
Check your usage, pay your bill or recharge your balance through the app
Shop
Buy all what you need from Vodafone Online Shop with few clicks!
Offers
Check & subscribe to our latest offers easily through a few clicks
Store Locator
Find the nearest store to your location with Ana Vodafone App
Reports
Check your bill reports, balance details, top calls & usage details on the App
Internet
All you need to know about your internet bundle usage and renewal date