Vodafone Money Transfer
Money Transfer
Save time and effort and Transfer money, to any Vodafone number anywhere in Egypt !
with a click of a button and the receiver will simply cash out the money from more than 180,000 different locations nationwide with the Vodafone Cash sign.
How can you transfer money through Vodafone Cash to anyone in Egypt even if he is not registered in the service ?
Dial *9*7# , Choose money transfer service , Enter the mobile number that you will transfer money to ,Enter the transferred amount from 5 EGP to 30,000 EGP , Enter your pin code
Transfer fees are 1EGP per transaction will be deducted from the remaining balance from your Vodafone Cash wallet.
__PRESENT
__PRESENT
__PRESENT
Withdrawal amounts between 5 LE and 150 LE are subject to 3LE cash out fees. Amounts above 150 LE are subject to 2% cash out fees.
And for a limited period Withdrawal fees are 1% of the withdrawal amount with a minimum of 3 LE.
__PRESENT
__PRESENT
__PRESENT
Money Transfer Amount limit
Customers can transfer money with minimum amount of 5LE and maximum of 30,000LE
__PRESENT
__PRESENT
__PRESENT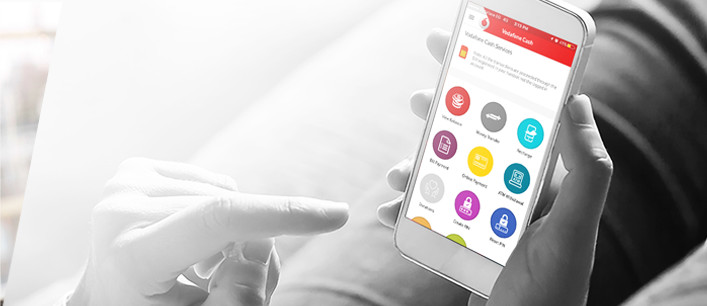 How do I deposit money in my Vodafone Cash account?
Simply visit any of VF stores, Aman,BEE,Masary or Fawry stores, and any ATM machine of AlexBank,The United Bank,QNB,Housing and development Bank,Suez Canal bank,Ahli united bank, CIB, Banque Misr, Banque de Caire, National Bank of Egypt & CIB to deposit money in VF Cash wallet with a maximum amount of 10,000 EGP/day and 50,000 EGP/month .

You will receive a confirmation SMS on your mobile confirming successful deposit.

The maximum amount of money you can keep in your wallet is 10,000 EGP.

Dial *9*9# to know the nearest location you can deposit or withdraw from.
__PRESENT